Get to know the team! Here at Down South Therapy we pride ourselves on helping individuals reach their full potential.
Founding Director and Occupational Therapist
Jodie is a highly experienced Occupational Therapist and Primary school teacher who has over 10 years experience in providing high quality therapy services in the Rockingham - Peel regions. Jodie has had a wide range of experience in working with infants, children, teenagers and adults in private and not-for-profit Occupational therapy services in the local community in the areas of child development, rehabilitation and mental health. She is experienced in providing individual and group occupational therapy services for infants, children, teenagers and adults with an array of diagnosed and undiagnosed difficulties. Jodie is passionate about helping all individuals reach their goals and fullest potentials in an individualised, fun, functional and innovative way. She values providing a family-centred individualised approach to service provision, which is flexible and based on individuals changing needs and goals.
Jodie is a registered Occupational Therapist through all private health funds, PMH funding (PITS), Medicare initiatives, Insurance Commission of WA funding, FaHCSIA services under the Helping Children with Autism initiative, Better Start Early Intervention Service for children with Cerebral Palsy, Fragile X Syndrome, Down Syndrome, Hearing Impairment and Vision Impairment and NDIS My Way.
In 2016 Jodie was the winner of the Occupational Therapy Australia Innovators in Practice award, recognising and acknowledging excellence and innovation in evidence based practice.
Occupational Therapy
Team Leader
Physiotherapy
Team Leader
Senior Occupational Therapist
Senior Occupational Therapist
Senior Occupational Therapist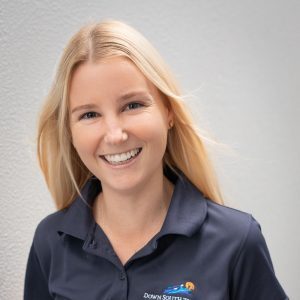 Occupational Therapy Assistant
Occupational Therapy Assistant
Occupational Therapy Assistant
Occupational Therapy Assistant
Senior Speech Pathologist
Senior Speech Pathologist
Administrative Coordinator
Administrative Coordinator
"Making a difference in someone else's life is the biggest reward that you can have, and you become so close to families that sometimes you almost feel a part of it. It is an absolute honor and privilege to witness someone achieve their goals, and know that you, in some way, have made a difference."
"Overall, what I most appreciate is our therapist' s ability to "see" the whole child, including her interests and strengths. By being so attentive to and affirming of her every effort she is enhancing her skills and boosting my shy little girl's confidence in the process"
SCHOOLS & DAY CARE CENTRES:
"There professionalism when visiting students and classrooms is to be commended. The services they offer students and parents are awesome but the support, guidance and resources they give to assist classroom teachers goes beyond there session. Thanks you for making such a difference to my students and their families!"